Wills vs. Trusts: Which One is Right for You?
May 3, 2022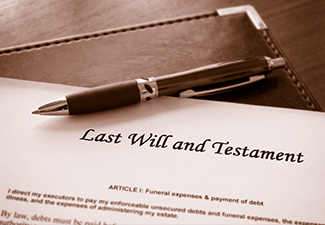 Providing for your family after you are gone is an important responsibility and priority for many individuals. Caring for your heirs after you are gone requires an estate plan tailored to your situation. Making the right decisions requires knowing the difference between a will and a trust so that you can choose the estate planning tool that will maximize the benefit to your heirs.
At The Law Offices of Bruce Peotter, we have the experience and skills to assist you in the legal matters of proactive estate planning. We focus on helping you explore your options and plan in advance so that you can be confident you have made the best decisions for your family. At the Law Offices of Bruce Peotter, we proudly serve clients in both Colorado and California; across Englewood, Colorado, as well as communities in and around Denver, and throughout Orange County, California, including Tustin, Costa Mesa, Santa Ana, and Irvine.
The Importance of Having an Estate Plan
An estate plan can protect your family from having to experience the time-consuming probate process. It will also allow you to establish how your property and assets will be distributed after your death. By expressing your wishes clearly before your passing, you can alleviate the burden on your family in the future. Wills and trusts can help you alleviate those burdens, but it's important to understand the differences, advantages, and disadvantages between the two. Essentially, they hold the same goal to help your loved ones receive your assets. The biggest difference between wills vs. trusts is essentially that wills don't go into effect until after you pass away, whereas a trust is effective as soon as it's signed and funded.
Wills
Understanding the difference between a will and a trust can help you make the right decision during the estate planning process. Many people choose to establish a will that details their wishes.
What Is a Will?
A will is a legally-binding document that allows you to name an executor or personal representative who will oversee the distribution of your estate. Wills also establish who will receive what property and assets.
Types of Wills
Generally speaking, there are a few types of wills:
Simple wills allow you to direct the distribution of your estate.

A pour-over will is used with a living trust to allow you to transfer your personal assets into a trust that already exists in the event of your death. A pour-over will acts as a backup in case some assets inadvertently are not in the living trust after you have passed away.

A living will states your medical care preferences if you're unable to speak to yourself.
Advantages of Wills
The key benefit of a will (and a living trust) versus dying without a will is that it allows you to determine exactly how your estate will be distributed. If you do not have a will, then the government will determine who receives your property after your death.
Disadvantages of Wills
The main disadvantage of a will is that it is subject to the probate process. The probate process is expensive, time-consuming, and may be public. It is more susceptible to litigation based on family disagreements.
A will also is a defensive, simplistic form of estate planning. It is not as flexible, private, or proactive as a living trust.
Trusts
Trusts are an important estate planning tool available to help you care for your family and loved ones after your passing and provide better care for you if you become incapacitated.
What is a Trust?
A trust is a legally-binding document that establishes a trustee during the life of the person who is granting the trust (the grantor). The trustee will manage the assets of the trust for the advantage of the trust beneficiaries.
Types of Trusts
Generally, there are two types of trusts in Colorado:
Revocable trusts (also called living trusts) can be amended or dissolved.

Irrevocable trusts cannot be changed or dissolved. Assets placed in an irrevocable trust will not be subject to estate taxes in Colorado.
Advantages of Trusts
A popular advantage of trusts is that they are not subject to the probate process, particularly if you own property in multiple states. This can save the estate significant time and money. Therefore, the terms of the trust, as well as the beneficiaries and the assets, can remain private after the individual's death.
A well-designed trust can proactively give you control and maximum flexibility over who will inherit (as well as when and how they will inherit) and can help reduce taxes.
Disadvantages of Trusts
There are few disadvantages to living trusts. There is a little extra work transferring assets into the trust up front, but almost all of it is easily accomplished. The Law Offices of Bruce Peotter is well equipped to clearly explain all the advantages of a living trust.
Deciding Which One is Right for You
Choosing between establishing a will or a trust can be a complex matter. Before you decide, keep these considerations in mind.
Considerations
If you have children who are minors, you may want to choose a living trust rather than a will, as a trust maximizes the benefit to the children and puts a team in place to make sure your children are properly cared for after you pass away. The Law Offices of Bruce Peotter often recommends a 30/40/50 plan as a proactive way to maximize the benefit to and protection for your heirs.
Additionally, if you believe that someone may try to challenge your wishes, a living trust is more difficult to challenge legally than a will. These are just two of many points you should consider while deciding between wills vs. trusts.
Hiring an Estate Planning Attorney to Help
Whether a will or a trust will be better in your situation will depend on a variety of factors, such as the size of your estate and the nature of your assets. Deciding on the structure of a proactive estate plan is important and the Law Offices of Bruce Peotter has the experience to provide you guidance tailored to your specific situation.
How an Experienced Attorney Can Help
Your legacy is too important to leave up to chance. Trust in the guidance of an experienced estate planning attorney. At our firm, we help you plan in advance to maximize the benefit to your heirs. The Law Offices of Bruce Peotter proudly serves clients in Englewood, Colorado, the nearby Denver communities, as well as Tustin, California, and throughout Orange County, including Irvine, Costa Mesa, and Santa Ana. Contact us today to schedule a consultation