Why Use an Estate Planning Attorney vs. Online Forms?
June 28, 2022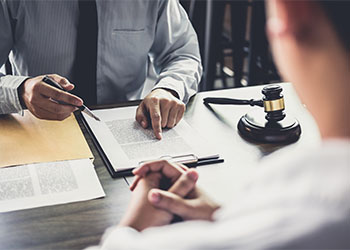 Estate planning allows you to make adequate plans in advance and indicate how you want your estate and final affairs to be settled when you're no more. When drafting your estate plan, you may want to hire an attorney for detailed guidance and to avoid making costly mistakes.
Alternatively, you may create your estate plan by downloading online forms and completing the documents. However, this is risky. Drawing up a comprehensive estate plan requires experienced legal guidance, and this is only possible with the assistance of a knowledgeable Colorado estate planning attorney.
At The Law Offices of Bruce Peotter, we are committed to offering personalized legal counsel and reliable advocacy to clients in estate planning-related matters, including wills, trusts, powers of attorney, and advance directives. As your legal counsel, we can evaluate your unique circumstances and help you understand the benefits of hiring a lawyer over online forms.
Additionally, our trusted attorney will help draft your estate planning documents and walk you through the whole process from start to finish. We're proud to serve individuals and families across Englewood, communities in and around Denver, Colorado, and throughout Orange County, including Costa Mesa, Irvine, Tustin, and Santa Ana, California.
Why Estate Planning Is Important
Estate planning involves providing instructions and laying out plans in advance about how you want your property and assets to be handled, distributed, or disposed of when you die or after sudden incapacitation. Regardless of your health or age, smart estate planning can help you achieve the following:
Protect your assets, property, investments, and interest

Provide comprehensive instructions about how you want to transfer assets to heirs and beneficiaries

Make suitable provisions for your surviving family members, minor children, spouses, dependents, and other close relatives

Protect investments and assets from creditors and frivolous lawsuits

Bypass the costly and lengthy probate process

Help inheritors reduce or avoid gifts, inheritance, and estate taxes

Prevent potential disagreements and conflicts between family members over asset distribution

Prevents you from dying intestate (without a will)
An experienced Colorado estate planning attorney can enlighten you about the benefits of hiring a lawyer over online forms and help you navigate crucial decisions when creating your estate plan.
Online Forms vs. Estate Planning Attorney
Here are some differences between creating your estate plan with online forms and hiring an estate planning attorney:
State-Specific
The majority of online forms are generic and not state-specific. These online forms may not meet the requirements for a valid estate planning document in your state. Conversely, a lawyer is knowledgeable, well-informed, and up-to-date about state-specific requirements.
Getting the Right Advice
As mentioned earlier, getting experienced legal guidance is crucial when drafting your estate plan. Unfortunately, you will have limited or no guidance when using an online form. Conversely, an attorney can enlighten you about your various options and help determine the best plan that suits your unique situation. In addition, an estate planning attorney can offer tax guidance and personalized counsel in complex financial, legal, and personal matters.
Making Modifications
When completing a form, you may make a mistake, and trying to make changes can involve some complexities. In fact, a simple omission or error can invalidate the whole estate plan. In contrast, an attorney can help make the necessary adjustments to your existing estate plan and make sure the estate plan reflects the new modifications.
When Disputes Arise
Disputes often arise between family members during estate administration. When this occurs, the court will favor information obtained from a party without interest in the provisions of the will or estate planning documents, such as the lawyer. However, you may be unable to take advantage of this privilege if you created your estate plan using an online form.
Keeping Your Documentation Safe
Finally, your estate planning documents need to be kept safe for several years. Paper-eating insects can easily damage the completed forms. Likewise, another person can find and throw away the online form when decluttering. Conversely, you can trust a lawyer to safely store copies of your estate planning documents.
Getting Skilled & Detailed Counsel
Creating an estate plan involves a lot of complex processes. Due to these complexities, navigating the estate planning process without experienced guidance is never advisable. Therefore, when thinking about drawing up your estate plan, it is crucial that you consult with a skilled estate planning attorney to explore your possible options and for proper guidance.
At The Law Offices of Bruce Peotter, we have the diligence, resources, and experience to assist and guide both young adults and older adults through the process of estate planning. As your legal counsel, we can enlighten you about the different choices available to you and help determine the right estate planning option that best fits your unique needs.
Also, we will draft a comprehensive will, set up a detailed living trust, create an advanced healthcare directive, and other vital estate planning documents on your behalf. Our trusted attorney will outline a strategic, long-term plan to protect your accumulated assets, finances, and interests. We will help you achieve your goals of transferring your estate to your loved ones seamlessly.
Contact The Law Offices of Bruce Peotter today to schedule a simple case assessment with a knowledgeable estate planning lawyer. We proudly serve clients across Englewood, communities in and around Denver, Colorado, and throughout Orange County, including Costa Mesa, Irvine, Tustin, and Santa Ana, California.