Reviewing and Updating Your Will
June 1, 2023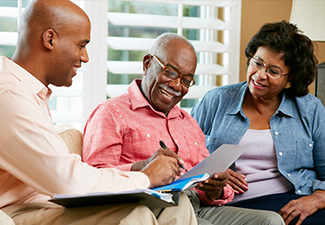 This past year, you may have asked yourself, "How often should I review my will," or "Is updating my will really necessary?" In asking these questions, you're not alone. Countless individuals like you have already drafted their estate plan, but now need to revise it—or even rewrite it completely. While this can be a tricky decision, it's fortunately not one you need to make alone.
If you're ready to move forward with estate planning—including reviewing and updating your will—contact our team at The Law Offices of Bruce Peotter. Our estate planning attorney serves individuals and families in Englewood, Colorado; Tustin, California; and communities in and around Denver, Colorado, as well as Orange County, California.
How Often Should You Review Your Will?
The only constant in life is change. When it comes to your estate plan, you should take this adage to heart. Whether you have a large or small estate, it's a good idea to review your will on an annual basis. Changes in your living situation (for example, a new medical condition) or laws (like tax codes) can both impact your estate plan. Reviewing your will annually with an estate planning attorney can ensure your beneficiaries don't run into any nasty surprises during the probate process.
When Should You Update Your Will?
Outside of annually reviewing your estate plan, there are also some specific situations when you should revise certain elements in your will. Here are some of the most common:
Getting Married or Divorced
This is one of the most common reasons to change your will. In many states, getting divorced will automatically remove your former spouse from your estate plan. This isn't a universal rule, though. If you end up getting remarried, you'll need to change your will. Otherwise, your new spouse will need to hire an estate planning attorney to represent them while the probate court reviews your will.
Adding or Removing Guardians, Witnesses, Beneficiaries, or Executors
Another situation that might require you to revise your estate plan is when you change the parties involved in the will. If you're adding or removing a party like guardians, witnesses, beneficiaries, or executors, you'll need to consult an attorney to revise your estate plan.
Adding or Removing Children or Grandchildren
The main point behind an estate plan is ensuring that your beneficiaries have clear and simple instructions for when you die or become incapacitated. As a result, accurately listing your beneficiaries is one of your estate plan's primary goals. If you need to add parties (or remove them) from your estate plan, you'll need to revise it.
Gaining or Losing Assets
Outside of getting married or divorced, gaining or losing assets is a reason that many individuals need to revise their estate plans. If you're leaving all your assets to a single person, this isn't particularly important. However, if you're planning on breaking your estate up and bequeathing it to multiple parties, you'll most likely need to revise it every time you gain or lose assets
Codicils: Should I Change My Will or Draft a New One?
What is a codicil? Simply put, a codicil is an addendum to your will. Often, if you want to make a small change to your estate plan, adding a codicil is the easiest way to do so.
While these can be handy, they don't cover every situation. Sometimes, you'll want to completely redraft your estate plan. Some situations that require you to redraft your will may include:
You're making a change that would require you to renumber your will's paragraphs.

A change may cause one of the parties in your will to challenge it in court.

You've already added a codicil before.
You also may want to consider drafting a new will if a codicil would make your estate plan more difficult to understand. If you're unsure about whether to add a codicil or redraft your will, consult an estate planning attorney.
Take Control of Your Future
If you're concerned about whether to change your will, our firm can help. Attorney Bruce Peotter has been helping clients in Englewood, Colorado, and Tustin, California, with their estate planning needs for decades. We can review your assets and current estate plan to determine your best course of action, then help you execute your new or revised will. To learn more about how we may be able to help, reach out to schedule a consultation.