Estate Planning FAQs
Feb. 9, 2023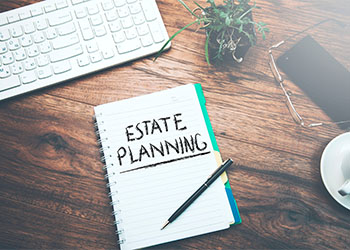 Estate planning is an important process that can help you protect your assets, plan for your future, and prepare for the unexpected. If you've ever wondered what estate planning entails or if it's something you are considering for your own situation, our attorney at The Law Offices of Bruce Peotter can provide answers to your questions and help you navigate the estate planning process.
From our two offices in Tustin, California, and Englewood, Colorado, our detail-oriented and dedicated attorney represents individuals and families throughout Orange County in California and serves communities in and around Denver.
Estate Planning FAQs
Let's take a look at some of the most frequently asked questions about estate planning.
What Is Estate Planning?
Estate planning is a process that involves organizing and managing your assets in preparation for end-of-life events. It includes creating documents that specify how your assets should be managed after you die, such as wills and trusts. It also involves appointing people to handle various tasks related to the management of your estate.
Why Is Estate Planning Important?
Creating an estate plan is essential for ensuring that your wishes are followed after you die. Without an estate plan, state laws determine how your assets are divided after death. An estate plan ensures that all of your possessions are distributed according to your wishes rather than those of the courts or state laws. It also helps ensure that any minor children in the family are provided for if something happens to both parents – otherwise, the courts will decide where and with whom your child goes.
What Should You Consider Before Creating an Estate Plan?
First, please note that your current age, financial status, and number of assets don't matter when creating your estate plan – estate planning is for everyone.
Before creating an estate plan, you should consider who will be responsible for managing and distributing your assets. You should also consider who will serve as a guardian for any minor children in the family in case something happens to both parents. Additionally, you may want to consult with an attorney or financial advisor who can help guide you through the process and provide advice based on their experience with similar cases.
What's the Difference Between a Will and a Trust?
A will is a legal document that outlines how someone's property should be divided upon their death. A trust is another type of legal document used to manage someone's assets during their lifetime and distribute them upon death according to specific instructions outlined in the trust agreement. Wills are generally simpler and less expensive than trusts but do not necessarily provide as much protection from creditors or taxes as trusts do.
What Happens if Someone Dies Without a Will?
When someone dies without a will, also known as intestate, their property is distributed according to state laws known as "intestacy laws" instead of according to the decedent's wishes. In this case, close relatives may have legal rights over certain assets, even if the deceased individual didn't want them to have those assets, or wanted someone else to have them.
That is why it is so important to create a valid will before passing away. Without one, it becomes much more difficult (and sometimes impossible) for individuals to ensure that their final wishes are respected after they pass away.
How Does Probate Work?
Probate is the court-supervised process of authenticating a decedent's last will and testament and distributing their assets according to its terms. During probate, creditors are paid, any disputes over the will are settled, and the remaining assets are distributed to beneficiaries named in the will (or to heirs according to state law if there was no will). Typically, the probate process can take anywhere from six months to several years, depending on the size of the estate and any disputes that may arise during probate.
Do You Need an Attorney to Create an Estate Plan?
The short answer is yes – an experienced estate planning attorney can help you create an effective plan that adheres to your wishes for your estate after you pass away. While an attorney is not essential when creating an estate plan, an attorney can help ensure that the estate plan is legal and can be upheld in court. An attorney can also advise you on how best to protect your assets during your lifetime and ensure that your loved ones receive what you want them to when you die. Plus, having an attorney handle these matters gives you peace of mind knowing that everything is being handled correctly and legally.
Work With an Experienced Attorney
To make sure everything goes smoothly when creating an estate plan, work with an experienced estate planning attorney at The Law Offices of Bruce Peotter. Our attorney helps individuals and families create comprehensive estate plans tailored specifically toward their needs and goals. With proper guidance and preparation, you can rest assured knowing that all your final wishes will be respected. Schedule a free consultation today by contacting one of our offices.